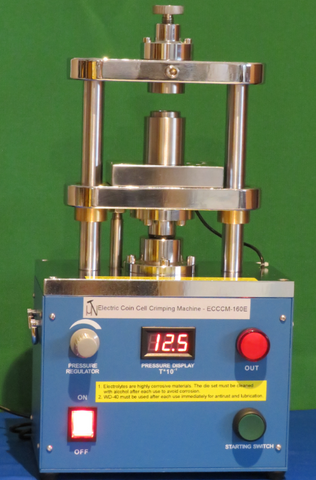 Electric Coin Cell Crimping Machine - ECCCM-160E - A Crimper for Glovebox
This price is only available upon request. Contact us for a quote or fill the request form at the bottom of this page.
---
Introduction
ECCCM-160E is a compact electric coin-cell crimper featuring light weight and small footprint. The crimper is capable of sealing various types of coin cells such as CR2032, CR2012, CR2016, and CR2450 et al. Die for CR2032,CR2012, CR2016 is included in the package. Dies for CR2325, CR2450 are available upon request. Use of a 24VDC motor enables the operation inside a glove box under Ar atmosphere for Li-S, Li Metal Air and Li half-cell testing. The compact size of crimper allows user moving it in or out from airlock chamber of glove-box. This machine is CE Certified and NRTL ready.
Working together with a set of disassembling die (Click to check details), the electric coin cell crimping machine ECCCM-100 can be used to disassemble crimped coin cells. 
Features
1. Compact and Robust design;
2. Special electric design, drive by a 24 VDC motor, safe and easy operation, adapter included;
3. Precise die to ensure accurate crimping;
4. Steel structure, safe, stable, and reliable;
5. Immediate use CR2032; Die need to be changed for crimping CR2016, CR2025, CR2450, and CR1620;
6. Simple structure and easy maintenance
7. 100 sets of CR2032 cases are included in the package. 
General Technical Specifications
Warranty
- One-year standard warranty with life-time support
- Damage due to improper storage condition or maintenance is not covered by warranty
Additional Notes
- Electrolytes are highly corrosive materials.The die set must be cleaned with alcohol after each use to avoid corrosion
- The PTFE die (found at the top die) ejects the cell casing after crimping via spring loaded pressure. Do NOT over tighten the pressure adjustment knob to avoid damaging this PTFE die.
- To set the proper pressure on the die, loosen the knob all the way until the spring compression is no longer stressed. Then start tightening the knob and stop turning it once the spring compression is felt. This will prevent the PTFE die from deformed byovee- pressure. 
- Free shipping for US and Canada, duty, and custom clearance all included in the price when applicable
- All university clients from US and Canada are entitled to payment term of net 30 days automatically. No worry, No stress, No Risk.
Request for Quote
---
Share this Product
---
More from this collection