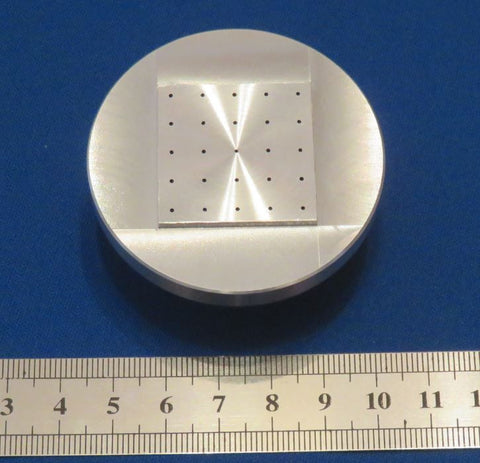 Vacuum Chucks for Rectangular or Ultra Thin Substrate on KW-4A spin coater
This price is only available upon request. Contact us for a quote or fill the request form at the bottom of this page.
---
The high precision aluminum or Nylon or Polyoxymethylene (POM) vacuum chucks are designed and fabricated to use on KW-4A spin coater of MicroNano Tools in order to maximize your flexibility with your specific research and development objectives. The standard rectangular vacuum chucks are made for square substrate sizes of 25*75, 25*38, 10*20, and 10*30 mm.
The rectangular vacuum chucks can also be made for ultra thin substrate. The substrate can be as thin as 0.025 mm (0.001 inch), but its lateral size should be equal or larger than 30x30 mm at the smallest thickness. The structure of vacuum chucks for ultra thin samples are different from that of conventional vacuum chuck. It has micro holes at the bottom plate and has a cover plate. It is also called complex vacuum chuck.
Diameter of wafers SHOULD ALWAYS slightly larger than that of the vacuum chucks with vacuum channels on it. Otherwise, the coating chemicals may be sucked into the vacuum system.
A good match between substrates and high precision aluminum vacuum chucks will significantly increase thickness uniformity of spin-coated film, hence improve its performance and desired properties.
The dense grooves on the vacuum chucks will also contribute to thickness uniformity by minimizing any possible warpage of the substrates during spin coating after vacuum is applied. 25 vacuum grooves are made along the radius direction for 100 mm wafer size.
The vacuum chucks are designed and made for KW-4A spin coater of MicroNano Tools. Diameter of the shaft, on which the vacuum chucks are installed, is 16mm as shown in the following picture.
Custom designs of vacuum check are acceptable. Please send your design to info@micronanotools.com for evaluation. 
Request for Quote (Please refer to this product in message)
---
Share this Product
---
More from this collection