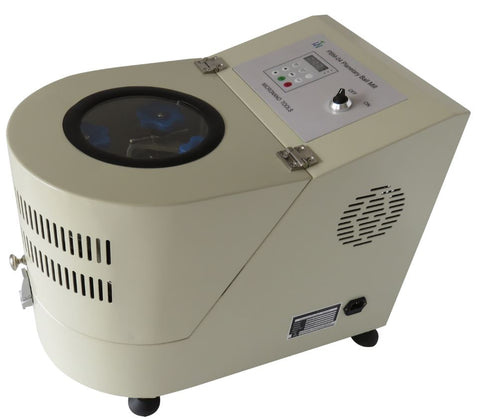 Planetary Ball Mill 4x100ml | Lubrication Free, Inert gas & Vacuum Milling Capable, shipping included --- On Promotion !!!
---
General Introduction
PBM-04 planetary ball mill is a compact, easy-to-use, and lubrication-free laboratory planetary ball mill for mixing, homogenizing,  fine grinding, mechanical alloying, cell disruption,  small sample preparing, new product development and small volume high-tech material production.  The systems features lubrication free, small volume, high efficiency, low noise and quick clamp. When using vacuum jars, samples can be processed in a vacuum or inert gas environment. The system can be used to smash and blend various products of different materials and granularity with dry or wet methods. The PBM-04 is widely applied in the fields of Geology, Mining, Metallurgy, Electronics, Construction Material, Ceramics, Chemical Engineering, Medicine, Environmental Protection etc. Free sample testing may be provided upon request.
This product is manufactured in Canada according to US and Canada standard (110V/60Hz) with strict quality control (220V/50HZ available upon request).  Free shipping from Canada for US and Canada. Custom clearance and duties are included in the price when applicable. 
Two-year warranty and lifetime support are offered for this product.
If you find a lower price from an online retailer on an identical and in-stock product, please let us know and we'll match it. 

Please contact us at 1-888-229-1281 or email info@micronanotools.com for more details.  
Technical Specification
Features
- Capable of grinding materials in vacuum or inert gas environment with SS jars or SS grinding jacket
- Self-lubricating gears enable a vibration free, low noise, and lubrication free system
- Ideal for wet or dry grinding application
- Automatic and programmable control with LED display
- Multiple grinding modes built in
- High uniformity and excellent repeatability
- High rotational speed, high efficiency and fine granularity
- Four samples with different sizes and materials in one experiment
- Programmable interval and pause times
- Stepless speed regulation, for both clockwise and counter clockwise rotation
- Leak-proof jars for wet grinding
- Large range of materials available for grinding media
- Gear-drive offers an effective solutions to problems caused by belt driving, such as belt creep and belt abrasion
- Cooling of the grinding chamber with a built-in fan for long grinding times
- Safety switch ensures automatic shut down if cover is opened during operation
Grinding Jars and Grinding Balls
The compatible non-vacuum jars available at 50ml and 100ml. The compatible vacuum jars are available at 50ml.  Please choose and order separately.                                    
 Applications
- Geology and Mineralogy: rock, gravel, sand, and minerals
- Ceramics: porcelain, sintered ceramics, clay, and fireclay
- Chemistry: pesticides, fertilizers, salts, inorganic and organic materials
- Biology: plants, leaves, freeze-dried samples
- Pharmaceuticals: ophthalmological agents, gels, creams, extracts, drugs, pastes, dragee, tablets
- Metallurgy: ores, sintering
- Material technology: pigments, precious materials, new materials, alloys, mechanical alloying and activating
- Analysis preparation: Spectroscopy, X-ray fluorescence, X-ray structure analysis, chromatography
Working Principle
The PBM-04 planetary ball mills have four grinding stations rotating around a sunwheel.  When the sunwheel rotates, the station axis makes planetary rotation in opposite directions and the balls in the jars are subject to superimposed rotational movements. The speed difference between the grind balls and the grinding jars produces high-energy impacts,  which are used to comminute the material samples. Minimum granularity of the final product can be as small as 0.1 micron.
Included in Package
Included in the package are a 110V/60HZ (220V/50HZ available upon request) 4x100ml planetary ball mill, 4 jar clamping device, a stainless steel sieve, rubber jar cushion or Nylon jar seat for smaller jars, a spare motor belt, a set of hex L-key, a spare cap screw, a spare fuse, a US or European standard power cord, and an operation manual. The grinding jars and balls are not included in the package. For ordering the grinding jars and balls combo, please click here. 
Warranty
- Two-year standard warranty with life-time support
- Damage due to improper storage condition or maintenance is not covered by warranty
- Extended warranty available upon request
Additional Notes
- The item is in stock and will be shipped in 2 business days
- Free shipping for US and Canada, duty, and custom clearance included in the price when applicable
- Product is manufactured in Canada. Two-year warranty with lifetime support.
- All universities and research institutes are entitled to payment term of net 30 days automatically. No payment before receiving the system, No worry. No stress, No Risk. 
- Accept custom OEM if there are any special requirements for your application
Partial List of Users
Alteo SAS, America Nano, Arizona State University, CycloPure Inc., University of California (Los Angels ), Collins Aerospace, Dragonfly Energy, Ecole Polytechnique de Montreal, Inovati Technology Inc., Massachusetts Institute of Technology,  Mycodevgroup (Canada), Northwestern University, Skalar Instruments (Netherlands),  Nanjing University (China, 220V/50Hz), Innovative Technology Inc., Helix2 (Greek), Tuscan Tech (Italy), Morgan State University, University of Manitoba, FP Innovations, National Research Council of Canada (Boucherville), Terra CO2 Technology, University of British Columbia, Worcester Polytechnic Institute, Western University of Ontario (4 units), University of Massachusetts Amherst, University of California (San Diego), University of South Dakota, Valerus Co.(Bulgaria), Profusa Inc., University of California (Los Angeles), Université du Québec à Chicoutimi (UQAC), West Virginia University, North Western University, University of South Dakota, University of Toledo, University of Tulsa, and University of New Brunswick. References available upon request .
Frequently Asked Questions
1. How to Select the Right Grinding Jars and Balls?
   
   Selection of the materials of the grinding jars and balls mainly depends on the sample materials. Rule of thumb, the material of jars and/or balls must be harder than the sample material. Otherwise, it is actually the jars and balls which will be ground by the samples in the grinding process. As a result, the material of the jars and balls will become contamination in your sample materials.
    In order to make the grinding process more efficient and obtain samples with less contamination, there are many other factors to be considered, such as density of the materials of the grinding jars and balls, energy input, rotation speed, brittleness of the sample material, and temperature in the jar during grinding et al. Please refer to the following table may help you in understanding the process in more detail. For any other questions or concerns in your specific grinding process, Please contact us to discuss in more details. Please click here for a wide variety of grinding jars and balls available in stock.
2. How many grinding balls should  be used for different sizes of grinding jars? 
The numbers of grinding balls are optimized based on many users' experiences and are for references only. Minor adjustment may be necessary in terms of the nature of milling materials, total volume of material and balls, required fineness, and other factors for your applications.
3. How to clean jars and balls after ball milling process?
In some ball milling process, the milled materials may stick to the grinding jars and balls during the long time grinding process. Following please refer to a few methods which may help.
1). To clean with a ultrasonic cleaning machine. Depending on the milled materials, DI water, Acetone, and IPA may be used sequentially or alone. 
2). To ball mill with the right solvent. After discharge the milled materials, add some solvent the grinding jars and rotate the milling jars with the balls for two to three minutes. Remove solution and Check. Repeat the process if necessary. 
3). To ball mill with harder materials. After discharge the milled materials, add some hard materials into the milling jars and rotate the milling jars with the balls for two to three minutes. Open grinding jars and Check. Repeat the process if necessary. 
For cleaning agate balls, you may consider to use quartz sand, unstained glass such as some window glass or container glass. 
4) How to ball mill in vacuum or inert gas atmosphere using the PBM-04 and stainless steel jacket
The planetary ball mill PBM-04 can be used to for vacuum ball milling and inert gas atmosphere ball milling for sensitive materials when stainless steel jacket is used together with the selected grinding jars. The SS jacket is equipped with two shut off valves connecting to vacuum pump and inert gas bottle. The following pictures show the set up and one stainless steel jacket with a grinding jar. 
If you have any suggestions, please let us know. We will provide you a credit in your next purchase. 

5) How to maintain the PBM-04 ball mill?
The PBM Series planetary ball mill series do not need regular grease lubrication because of the self-lubricating gears, so users saves time in operation. The self-lubricating gears also eliminated risk of gear damage due to failing to maintenance regularly.
However, the ball milling area does need to be kept clean. After each use, the milling area must be cleaned properly from any dirt or loose materials. For cleaning the grinding jars and balls, add some water and detergent into the grinding jars then rotate the jars with balls for a few minutes.  Refer to item 3 for more detail about cleaning jars and balls after ball milling process. 
---
Share this Product
---
More from this collection