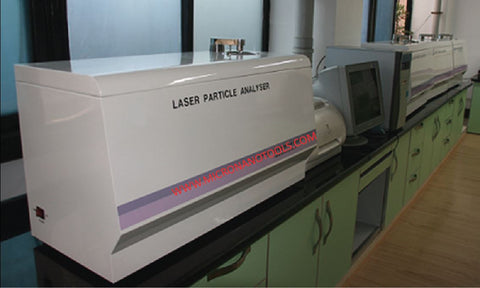 MNT-W202K Laser Particle Size Analyzer
This price is only available upon request. Contact us for a quote or fill the request form at the bottom of this page.
---
Introduction
MNT-W202K is a laser particle size distribution analyzer designed by MicroNano Tools according to ISO 13320. It is a new generation of particle size analysis instrument integrating laser, computer, and photonics technology. MNT-W202K is a highly-intelligent and fully automatic particles size analyzer. It is based on full-scale Mie scattering theory and special technique for particle size distribution analysis and calculation. The ultrasonic dispersing unit, auto agitating unit, and auto circulating unit are built in. For a system with size range as broad as from 20nm to 2000 micrometers, such design effectively reduces the instability during the circulating process and considerably increases the accuracy and repeatability. The system is able to process a large amount data and the test is fast. Each sample measurement can be finished within one minute. The included software is user friendly. Signals will be generated and transmitted automatically and testing results will be saved automatically for user analysis or printing.
Specifications
Features
MNT-202K is a high-tech size distribution analyzer integrating optics, electronics, sample circulating, ultrasonic dispersing, agitating, fully automatic cleaning. The alignment is done automatically by the computer.
Sample stays short time in the tube in order to avoid leveling or re-agglomerating of the particles.
High repeatability and stability comparable to top-end products in this field.
Compact and reasonable structure, robust built, latest anti-disturbance control resulting in electrical stability and reduces the failure rate;
Easy to use and maintain.
Serial data transmission allowing to connect with any LAPTOP or DESKTOP connected.
Software compatible with Windows system, user friendly interface and easy operation. Simply click on the "Auto Test", then follow instructions and add samples into the tank, all the test procedures including parameter selection, alignment, background test, obscuration adjustment, signal collection, data analysis, report creation, and circulating system cleaning will all be done under control of the computer. The testing result will then be available to save, query, compare, edit, delete etc.
Six formats of result analysis report showing cumulative particle size distribution data and graph, differential particle size distribution data and histogram, and typical point results including D3, D10, D25, D50, D75, D84, D90, D97 etc.
Optimized testing modes for different samples; Presetting desired parameters in order to obtain high reliable and repeatable testing results: Refractive Index, particle size distribution model, concentration/obscuration, ultrasonic time, sampling time, circulating rate, cleaning time etc.
Anti-vibration design for safe transportation and dust-proof technique for operation in tough environment.
Applications
The MNT-W202K laser particle size distribution analyzer have been widely applied for size distribution of particles or emulsions for following fields: chemicals, electronic materials, battery materials, pesticides, pigments, pharmaceuticals, titanium dioxide, ceramics, construction materials, cosmetics, abrasives, paint/pigment, food, calcium carbonate, talc, kaolin, paper, aluminum oxide, rare earth catalyst, blowing agents, refractory, cement, graphite, etc
Warranty
- Two years standard warranty with life-time support
- Damage due to improper storage condition or maintenance is not covered by warranty
List of Users
University of Waterloo, University at Buffalo, Purdue University, Fresh Air Sensor, Texas A&M University, University of Maryland at Baltimore, University of Akron, University of Toronto, Middle Western University, Northeastern University, University of Louisiana, Carnegie Mellon University, University of Washington, Lehigh University, and Georgia State University. References available upon request.
Additional Notes
- The item will be shipped in one weeks after the payment is cleared
- Seller from Canada, on site local services available for heavy equipments upon request
- Free shipping for US and Canada, duty, and custom clearance all included in the price when applicable
- Accept custom OEM if there are any special requirements for your application
Request for Quote (Please refer to this product in message)
---
Share this Product
---
More from this collection