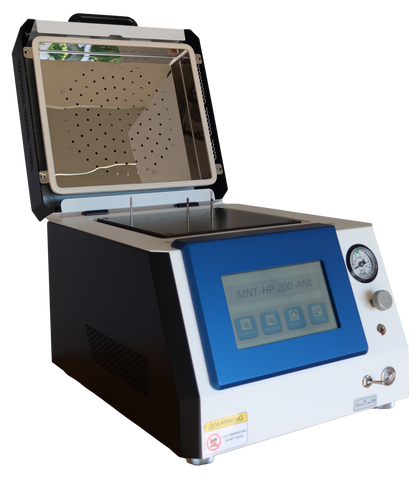 MNT-HP-200-ANL Photolithography Hot Plate - Two-years Warranty
This price is only available upon request. Contact us for a quote or fill the request form at the bottom of this page.
---
General Introduction
The MNT-HP-200-AL is an advanced version of photolithography hot plate designed for high end application requiring comprehensive multi-step temperature control. It is equipped with lift pin for adjusting the distance between the hot plate surface and the wafer.  The MNT-HP-200-AL is also available with Nitrogen purge function as an option , MNT-HP-200-ANL. This product features high photoresist baking speed, uniformity, high temperature control accuracy, and highly repeatable experimental results. Electronic lift pins are equipped for easily loading and unloading substrates. 
The MNT-HP-200-AL is a perfect tool to fabricate metal oxide thin films, polymer coatings and metal organic thin films on silicon wafers or other substrates.  Because the HP-200 has a uniform temperature profile across the substrate and provides even heating to the films and coatings, it features reduced baking time, increased reproducibility, and more uniform and better film quality. The skin effect will be avoided since the films/coatings are heated from bottom up.
Product features
- Heating surface is made from oxidized aluminum, high corrosion resistance and hardness; 
- High precision temperature control with digital display, ±0.2°C, temperature resolution 0.1 °C
- 7-inch touch screen for display and operation
- Lift pin with precise height control between 0 and 30mm with resolution of 0.1mm
- Positioning pins for quick placing wafers
- Maximum continuous heating temperature up to 300°C - Nitrogen purge cover for inert gas environment baking available as an option
Specifications
Partial List of Recent Clients 
University of California in San Diego Nano3 Facility, Hewlett Packard Enterprise, Sandia National Laboratories, Univeristy of Notre Dame, University of Southern Mississippi, Washington State University, Furcifer Inc., Alberta University, Arizona State University, State University of New York at Buffalo, California Institute of Technology, Carbon3D, Clemson University, Louisiana State University, Midwestern University, National Institute of Standards and Technology, Princeton International School, San Jose State University, Sero Immuno Diagnostics, State University of New York 
Warranty
- Two years standard warranty with life-time support
- Damage due to improper storage condition or maintenance is not covered by warranty
- Extended warranty available upon request
Additional Notes
- Free shipping for US, Canada, and most European countries, duty, and custom clearance included in the price when applicable
- Accept custom OEM if there are any special requirements for your application
Request for Quote
---
Share this Product
---
More from this collection