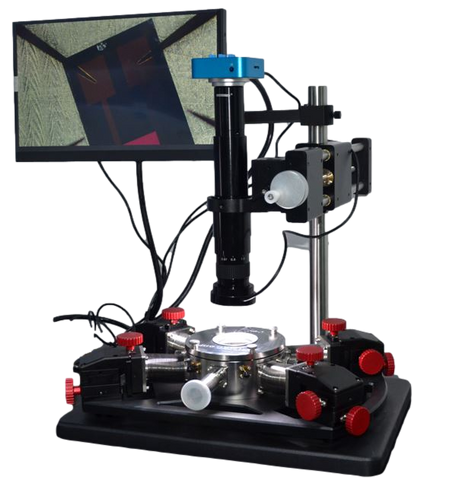 Mini Vacuum Probe System with Temperature Control - RFQ
This price is only available upon request. Contact us for a quote or fill the request form at the bottom of this page.
---
Introduction
    The Mini vacuum probe system MVPTC-100 is designed to support probing of small wafers up to 1 inch. The vacuum chamber works with temperature control ranging from -190 ºC to 350 ºC. The MVPTC-100 system integrates a vacuum chamber, a sample stage with probe and moving platform, a temperature controller, and a microscope.
For customization of the MVPTC-100 vacuum probe system for your applications, please contact us. 

Please contact us at 1-888-229-1281 or email info@micronanotools.com for more details.   
 Features
- Wide temperature range from -190 ºC to 350 ºC
- Standard configuration of four-arm tri-axial for four-point probing
- High precision X, Y, Z stage movement with accuracy at 5 µm
-- Stable platform for precision measurement
-- Compact and robust design

Specifications
Warranty
- Two years standard warranty for both parts and services with life-time support
- Damage due to improper operation or maintenance is not covered by warranty
Additional Notes
- All university clients from US and Canada are entitled to payment term of net 30 days automatically. 
- The item is assembled in Canada; on site local services available for US and Canada upon request
- Free shipping for US and Canada, duty, and custom clearance all included in the price when applicable
- Accept custom OEM if there are any special requirements for your application
Request for Quote (Please refer to this product in message)
---
Share this Product
---
More from this collection