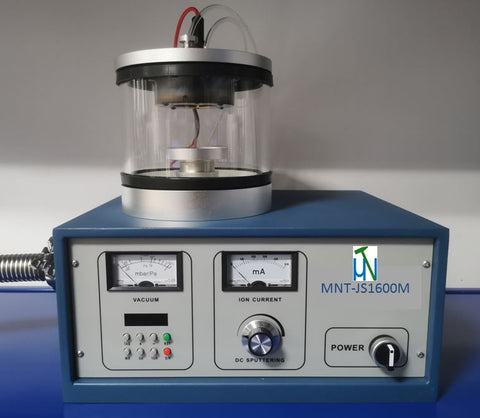 Magnetron Plasma Sputter Coating System MNT-JS1600M with Vacuum Pump, Incl. Gold Target & 2 years Warranty
---
General Introduction
The MNT-JS1600M is a compact magnetron plasma sputter coating system, designed for cold and fast deposition of metal materials, such as Au, Ag, and Pt. It is an ideal tool for coating conductive gold deposition on thin polymer film and fabrication of electrodes on non-conductive substrate. It is equipped with a 50mm sputtering head and height adjustable sample platform.
Enabled by both magnetic field and electric field, the Magnetron sputter coating system presents significantly faster metal deposition rate. SEM sample surface can become conductive in as short as 10-20S. There will be no noticeable temperature increase on the samples to be coated for SEM or other purposes.
The magnetron plasma sputtering coating system includes one sputtering head with gold sputtering target installed (gold cathode), a two stage Vacuum pump, a bellow of translucent rubber with steel lining, KF 25 flange, and a vapor trap.
This product is manufactured in Canada according to US and Canada standard (110V/60Hz). Free shipping from Canada. Custom clearance and duties are included in the price when applicable. Two-year warranty and lifetime support are offered for this product.
MicroNano Tools provides various sputter targets for plasma sputter coater. Please click here for details.  
Features
Enabled by both magnetic field and electric field, the Magnetron sputter coating system presents significant faster metal deposition rate
Cold sputter system, result in no noticeable temperature increase of sample
Compact size and robust design with big sputtering area
Built in sample sputtering chamber vacuum gauge and sputtering ampere meter, to indicate and monitor instrument condition
Adjustable sputtering current, enabling sputtering coating of various metals, such as gold, platinum, Indium and silver etc.
Hinge clamps are used for all vacuum connections to prevent vacuum leak
Possible to be used inside a standard glove box
Possible to be customized to 75 mm sample
Specifications
For details of vacuum pump, please click here. 
Warranty
Two year standard warranty with life-time support; contact for details.
Damage due to improper storage condition or maintenance is not covered by warranty
Longer time warranty available upon request
Client reference available upon request
Frequently Asked Questions
 1. Working principle of MNT-JS1600 Plasma Sputter Coater
John S. Chapin invented the first planar magnetron sputtering source in 1974 as schematically shown in the following picture based on conventional diode sputtering. Different from the original DC plasma sputter coater, magnetic field is introduced on surface of the target to improve deposition rate while reduce the substrate temperature increase by constraining the electrons in the area on surface of the target. The magnetron plasma sputtering process may be summarized in the following steps..
2. Does distance between sample and target play any role for coating?
The MNT-JS1600 is a DC two-pole plasma sputtering coating system. The sample under the target receives both the electron bombardment and target deposition as shown in the above picture. With short distance between sample and the target, the coating speed should be increased because less target atoms are scattered to other areas in the vacuum chamber. But the sample may be subject to more electron bombardment, which may result in possible thermal damage to samples to be coated. If samples are rocks, it may not be necessary to worry about temperature increase. For some biological samples and plastic samples or any samples sensitive to temperature, possible thermal damage should be considered and an optimized distance should be practiced. 
3. How to estimate coating thickness? 
The coating thickness mainly depends on target material, sputtering current, and coating time. Their relation can be described approximately by the following equation:
H=M.I.T,
where H is the coated film thickness; M is material constant, when using Argon gas, approximately 0.17 for Au at a working distance of 50mm (distance between sample and target), 0.09 for Pt, 0.10 for Al (Aluminum); I is the sputtering current, mA; T is the time, second.
When using Argon or Nitrogen, 10mA sputtering current, coating gold for 100S, the film thickness will be about 0.17x10x100=170Å. When using air sputtering, M is about 0.07 for gold. The above equation is for estimation only.
4. Is the sputtering voltage adjustable? 
Yes. At certain atmosphere in the sputtering chamber, sputtering voltage can be increased by increasing sputtering current using the adjusting knob. Maximum value of the sputtering voltage is -1600V. However, the sputtering voltage will also change with vacuum atmosphere and target material. 
When using  gold target and vacuum at about 4Pa and sputtering current at 10mA, the sputtering voltage is about 1300KV; if lower down vacuum to 8Pa and maintain the same sputtering current at 10mA, sputtering voltage is about 550V. 
---
Share this Product
---
More from this collection