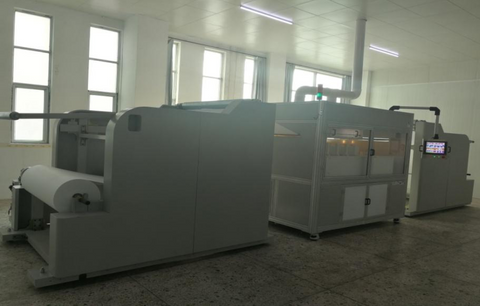 Industrial Needle-less NanoFiber Electrospinning Machine LNFES-1000
This price is only available upon request. Contact us for a quote or fill the request form at the bottom of this page.
---
Introduction
        LNFES-1000 Needle-less NanoFiber Electrospinning Machine is developed for mass production of Nanofiber of various materials. Diameter of nanofiber ranges from 20nm to 1000nm.
        Electrospinning of this industrial machine is realized by patented spiral linear electrodes technology, which enables extreme uniformity of produced nanofiber membrane across substrate width, eliminating worries over blocking of conventional spray nozzles or needles.  
        Linear speed for both let off roller and take up roller can be adjusted between 200 mm~9000 mm/min. Daily output of nanofiber can reach up to 18,000 m2 when substrate width is 1600mm.
        System is customizable according to your needs. 

 Technical Specifications
Request for Quote
---
Share this Product
---
More from this collection