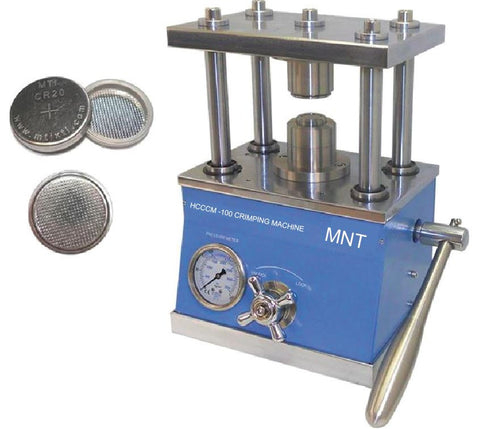 Hydraulic Coin Cell Crimping Machine - HCCCM-100 -- Incl. Shipping
This price is only available upon request. Contact us for a quote or fill the request form at the bottom of this page.
---
Introduction
HCCCM-100 is a compact hydraulic coin-cell crimper featuring light weight and small footprint. The crimper is capable of sealing various types of coin cells such as CR2032,CR2025,and CR2016 using the included die. It can also crimp CR2325, CR2450, AG3, AG5, CR3032, CR3048 and other special size cases by using properly selected dies. In addition, the crimper can also be used for disassembling purpose when disassembling dies are installed on the machine.
It is not suggested to use the HCCCM-100 in a inert gas purification glove-box or similar facilities, where vacuum status is applied.
The crimping die is consumable. Additional crimping dies can be ordered here.
Features

1. Compact and Robust design;
2. Special hydraulic design, easy operation;
3. Built-in pressure gauge for observing and controlling crimping pressure;
4. Precise die to ensure accurate crimping;
5. Steel structure, safe, stable, and reliable;
6. Built-in safety valve, for adjusting pressure and setting pressure limit in order to avoid causing damages
7. Immediate use for CR2016, CR2025, and CR2032; Die need to be changed for crimping CR2450 and CR1620;
8. Simple structure and easy maintenance
General Technical Specifications
 Warranty
- One-year standard warranty with life-time support
- Damage due to improper storage condition or maintenance is not covered by warranty
Additional Notes
- The item is currently in stock and will be shipped in 3 business days via DHL express. 
- All university clients from US and Canada are entitled to payment term of net 30 days automatically. No worry, No stress, No Risk.
- Free shipping for US and Canada, duty, and custom clearance all included in the price when applicable
- Accept custom OEM if there are any special requirements for your application
Request for Quote
---
Share this Product
---
More from this collection