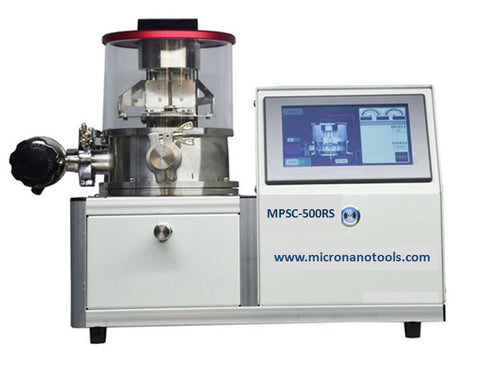 High-power Magnetron Plasma Sputter Coater, 500mA, Rotatable SH and option for thickness control
This price is only available upon request. Contact us for a quote or fill the request form at the bottom of this page.
---
General Introduction
MPSC-500RS is a high power (Sputtering current up to 500mA) Magnetron Plasma Sputter Coater designed for physical deposition (metallic coatings) of most metal materials, such as gold, platinum, Indium, Palladium, Titanium, Copper, Aluminum, Cobalt, and silver et al. It is a powerful high end product, designed for coating various conductive metal films for device prototyping in various fields and for SEM sample preparation.
Main features of the MPSC-500RS include high sputter power, rotatable sample holder (SH), real time monitoring of sputtering current and voltage, programmable sputter process, electric controlled shutter, and adjustable sample height.
The MPSC-500RS is equipped with High precision quartz crystal thickness monitor as an option. Deposition thickness can be measured and monitored in real time by measuring the change in crystal's oscillating frequency. Sputter process stops automatically when desired/set thickness is reached.
7 inch touch screen is used to realize precise process control, sputter current and voltage feedback, rotatable substrate stage, and an electric shutter.
The plasma sputtering coater is turn-key solution and will be shipped with all necessary accessories for immediate use, including one sputtering head with copper sputter target installed (copper cathode), a Vacuum pump with a stainless steel bellow hose, KF 25 flanges, and a vapor mist trap.
MicroNano Tools provides various sputter targets for plasma sputter coater. Please click here for details. 
 Features
High power sputter coater with maximum sputtering current at 500mA;
Rotatable substrate stage 0-20RPM for more uniform coating;
Robust vacuum chamber combine both stainless steel and quartz glass;
Real time monitoring of sputtering voltage, and sputtering current for precise process control;
Unique design of electric shutter with shutter timing control enables high impurity coating and sputter of metals which can be oxidized easily;
Built in chamber vacuum gauge for process monitoring;
Adjustable sputtering current, enabling sputtering coating of various metals, such as gold, platinum, Indium, silver, copper, and aluminum etc.
Standard KF hinge clamps are used for most vacuum connections to prevent vacuum leak
Option for High precision quartz crystal thickness monitor and thickness control
Specifications
For details of vacuum pump, please click here. 
The rotatable sample holder, electric shutter, and quartz crystal seat are shown in the following picture 
The high precision quartz crystal thickness measuring system is shown in the following picture. 
Warranty

Two year standard warranty with life-time support; contact for details.
Damage due to improper storage condition or maintenance is not covered by warranty
Longer time warranty available upon request
Client reference available upon request
Frequently Asked Questions
 1. Working principle of MPSC-500RS High Power Magnetron Plasma Sputter Coater
John S. Chapin invented the first planar magnetron sputtering source in 1974 as schematically shown in the following picture based on conventional diode sputtering. Different from the original DC plasma sputter coater, magnetic field is introduced on surface of the target to improve deposition rate while reduce the substrate temperature increase by constraining the electrons in the area on surface of the target. The magnetron plasma sputtering process may be summarized in the following steps..
2. Does distance between sample and target play any role for coating?
Yes, the distance between substrate and target can be adjusted between 40 and 105mm. 
3. How to estimate coating thickness? 
The coating thickness mainly depends on target material, sputtering current, and coating time. Their relation can be described approximately by the following equation:
H=M.I.T,
where H is the coated film thickness; M is material constant, when using Argon gas, approximately 0.17 for Au at a working distance of 50mm (distance between sample and target), 0.09 for Pt, 0.10 for Al (Aluminum); I is the sputtering current, mA; T is the time, second.
When using Argon or Nitrogen, 10mA sputtering current, coating gold for 100S, the film thickness will be about 0.17x10x100=170Å. When using air sputtering, M is about 0.07 for gold. The above equation is for estimation only.
4. Is the sputtering voltage adjustable? 
Yes. Sputter current can be set between 0mA and 500mA. Real time sputter current and sputter voltage are displayed on touch screen screen. 
Request for Quote (Please refer to this product in message)
---
Share this Product
---
More from this collection