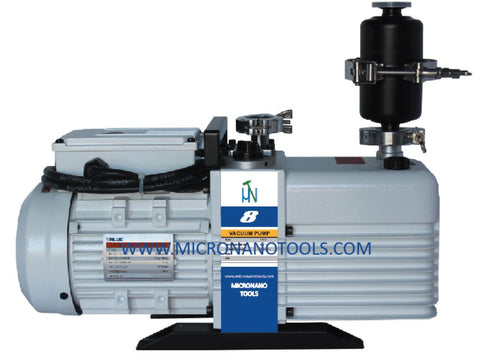 cUL Certified Two-Stage Rotary Vane Vacuum Pump - Two-year Warranty
This price is only available upon request. Contact us for a quote or fill the request form at the bottom of this page.
---
General Description
The cUL Certified MNT-DRV-8 rotary vane pump is a high speed, motor direct drive, oil-sealed, and positive displacement pump. The pump adopts integrated cylinder structure, inner oil pump design, automatic anti-suckback valve design, oil pressure control system and adjustable gas ballast valve design. The item is certified for using in both Canada and US. 
The pumps features compact design, high safety and reliability, high flow rate, high ultimate pressure and low noise level. the pumps are free of oil leakage and easy for maintenance.
Technical Specifications
For more flow rate unit conversion, please click here;
For more pressure unit conversion, please click here.
Features
Tow-Shift adjustable gas ballast valve satisfies different requirements of condensable vapor(such as water vapor) to be exhausted out of pump in different processes.
Dual protection of oil anti-sucking back ensures vacuum system from oil pollution when pump stops running and needs to be easily restarted.
Forced oil circulation system consisted of oil pump and constant pressure oil supply mechanism ensures stable running of the pump.
Less components are used, easy to maintain and repair.
Applications
The MNT DRV-8 vacuum pump is a common type of vacuum pump, with two-stage pumps able to reach pressures well below 10-6 bar. These vacuum pumps are found in numerous applications, especially in for research, analyzing instruments, and medical equipments, where low noise and vacuum pressure are critical. The vane pumps can also be used in low-pressure gas applications such as low pressure chemical vapor deposition systems, plasma sputtering coating, and plasma cleaning.
The MNT DRV-8 vacuum pump can be used in conjunction with momentum transfer, such as Roots pump, diffusion pump, and molecular pump, to achieve high vacuum.
Warranty
- Two-years standard warranty with life-time support
- Damage due to improper storage condition, use,  and maintenance is not covered by warranty. 
List of Users
University of Waterloo, University at Buffalo, Purdue University, Fresh Air Sensor, Texas A&M University, University of Maryland at Baltimore, University of Akron, University of Toronto, Middle Western University, Northeastern University, University of Louisiana, Carnegie Mellon University, University of Washington, Lehigh University, and Georgia State University. References available upon request.
Additional Notes
- The item is currently in stock and will be shipped in 3 business days 
- Seller from Canada, close services; local services available for heavy equipments or upon request
- Free shipping for US and Canada, duty, and custom clearance included in the price when applicable
- Accept custom OEM if there are any special requirements for your application
Request for Quote
---
Share this Product
---
More from this collection