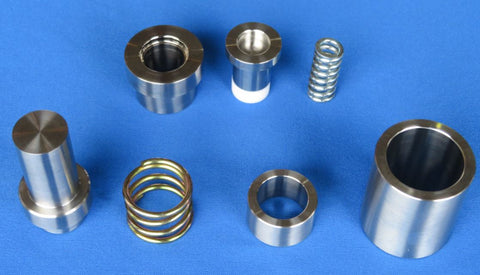 Crimping Die for Electric Coin Cell Crimping Machine - ECCCM-160E
---
Introduction
The crimping Die is used to crimpe coin cells on the Electric Coin Cell Crimping Machine - ECCCM-160E. The die is capable of crimping coin cells of CR2032,CR2025,and CR2016. For crimping other types of coin cells, such as CR2325, CR2450, AG3, AG5 and other special size cases, please contact the seller for prices. 
Maintenance
1. Electrolytes are highly corrosive materials. The die set must be cleaned with alcohol and lubricated with WD 40 after each use to avoid corrosion. The die set must be able to move freely without any blocking and rusting. 
Rusting or damage due to improper storage, maintenance, and operation may result in machine damage and void of warranty. 
2. Lock screw of the upper die as shown in figure 4 must be checked regularly. The lock screw must be tightened before operation.
---
Share this Product
---
More from this collection