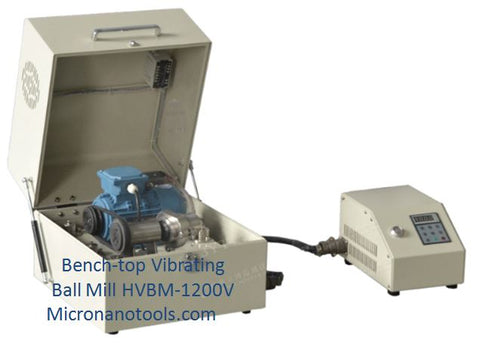 Bench-top High Speed Vibrating Ball Mill with Speed Control (HVBM-1200V) Incl. one 80ml SS Jar - 2-year Warranty
This price is only available upon request. Contact us for a quote or fill the request form at the bottom of this page.
---
General Introduction
The HVBM-1200V is a compact and powerful bench-top high speed vibrating ball mill for generating a small quantity of powder samples with speed control. It features high impact energy, which is created by three-dimensional movement, including rotation, vibration, and oscillation with frequency up to 1200 cycles per minutes. The HVBM-1200 can be used for both wet and dry grinding and for mixing a variety of solids, suspended liquids, and pastes. The machine will come with a two-year warranty. 
Technical Specification
Grinding Jars and  Balls
The compatible non-vacuum jars available at 50ml and 80ml. All 50ml jars must be used with a 50ml stainless steel jacket for fitting on the same clamping device. When used in vacuum or inert gases environment, all 50ml jars must be used with a 50ml stainless steel vacuum jacket. Please choose and order separately.
Features
-  Easy jar installation
-  large Range of materials of grinding media (Nylon, Alumina, SS and Agate) offered for various applications
-  Leak-proof jar for wet grinding
-  Quick, efficient pulverization and homogenization
Warranty
- Two-year standard warranty with life-time support
- Damage due to improper storage condition or maintenance is not covered by warranty
- Extended warranty available upon request
Additional Notes
- The item will be shipped in 2 weeks after the payment is cleared
- Seller from Canada; on-site services available upon request
- Free shipping for US and Canada, duty, and custom clearance included in the price when applicable
- Accept custom OEM if there are any special requirements for your application
Request for Quote
---
Share this Product
---
More from this collection