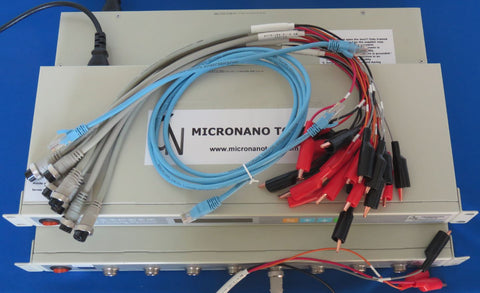 8 Channel Triple Range Battery Testing System with Software&All Acc.&Shipping, UL&CSA Ready -Two-year Warranty
This price is only available upon request. Contact us for a quote or fill the request form at the bottom of this page.
---
MNT-BA-5VTR is an 8-channel triple range battery testing system to analyze small coin cells and cylindrical batteries. The models of triple range system include 5V 10mA, 5V 20mA, 5V 50mA, and 5V 6A. For 5V 10mA, each channel has three current ranges, range 1: 5µA~1mA, range 2: 1mA~5mA, and range 3: 5mA~10mA. The per channel control voltage range is from 2.5mV to 5V and the minimum discharge voltage is 0V. Each channel of the analyzer has independent constant-current and constant-voltage sources, which can be programmed and controlled in the included computer software. This system suits most applications in battery development fields such as research on electrode material, battery performance test, small-scale battery formation, capability grading, battery pack testing and etc. The software is compatible with Windows operating system and Microsoft Excel will be required for data output. Up to 20 sets of analyzers can be simultaneously controlled by one PC.

The battery testing system is designed and manufactured according to UL and CSA standard and it is ready to be certified. 
Models of the Triple Range Analyzer System

Please select the right model for your application

General Technical Specifications of 5V 10mA Triple Range System
DCIR test supported
 Working Environment
Warranty
- Two years standard warranty with life-time support
- Damage due to improper storage condition or maintenance is not covered by warranty
Additional Notes
- The item will be shipped in one weeks after the payment is cleared
- Seller from Canada, on site local services available for heavy equipments upon request
- Free shipping for US and Canada, duty, and custom clearance all included in the price when applicable
- Accept custom OEM if there are any special requirements for your application
List of Users
University of British Columbia, Johns Hopkins University, Institut national de la recherche scientifique (INRS), University of Waterloo, University at Buffalo, State University of New York at Oswego (SUNY Oswego), Carver Scientific(LA), References available upon request.
Request for Quote (Please refer to this product in message)
---
Share this Product
---
More from this collection