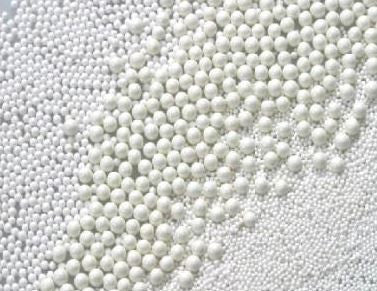 Yttria-stabilized zirconia beads
This price is only available upon request. Contact us for a quote or fill the request form at the bottom of this page.
---
General Introduction
0.1-0.4mm yttria-stabilized zirconia beads for grinding and dispersing. 
Characteristics:
 1) Preventing material from contamination because of its extreme low wear rate.
 2) High grinding efficiency. 
 3) Lower total costs due to the long using life.
 4) Suitable for high velocity operations and wet grinding operations.
Technical Specifications 
 Sizes Available 
 Applications
1. For grinding wear-resistant, corrosion-resistant products, such as oil paints, textile pigment,   coating, ink, and dyestuffs. 
2. For grinding high strength, high toughness products: magnetic materials, piezoelectric ceramics, dielectric ceramics
3. No-pollution grinding: medicine, food, cosmetics.
4. Ceramics: Electronic ceramics, refractory ceramics, structural ceramics.
Request for Quote (Please refer to this product in message)
---
Share this Product
---
More from this collection